News:

July 24, 2006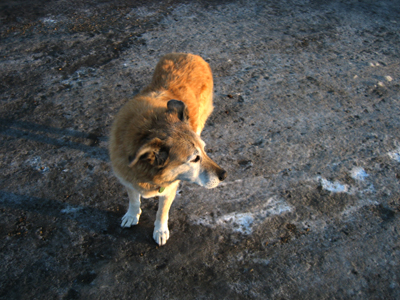 Tori- 1990 to July 2006
You will be missed my friend.
Nov 19, 2005
Well today marks 2 months in HK, the pace has thankfully abated a bit so my head has not exploded.
Alas for a robotics page I really can't put up much of the cool sh1t that I am working on due to company NDA (technically I haven't actually signed one yet but I would never betray their trust) So here is a pic from earlier today: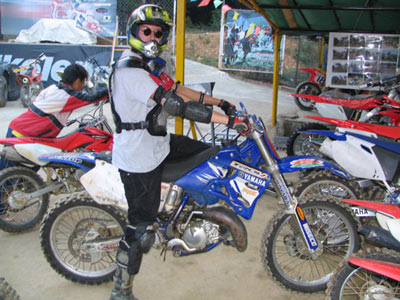 Compared to most I am on the large size so I gots the big bike. That and I drive without holding back, those little 80cc's just didn't cut it for me ;) What a great day.
Anyway TTFN got a little bit o TBRKT to sleep off,
GrantM.
Oct 1, 2005
Well Lesee not too much to report, I left Solarbotics, moved to Hong Kong, now work for WowWee Robotics and went to a party with Jackie Chan (also the premier screening of his new movie "The Myth").
Fresh off the WowWee R&D table- The Raptor Pet!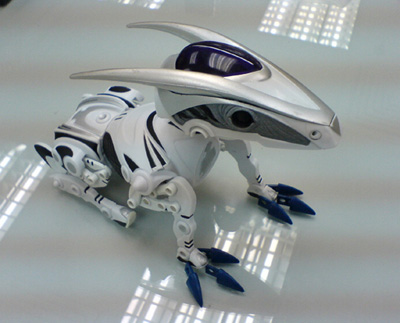 (sorry to state the obvious but just to stop any rumors from starting this was just some late friday afternoon tomfoolery)
The lizard here shows very well how I felt after a bit over 13 hours on a plane: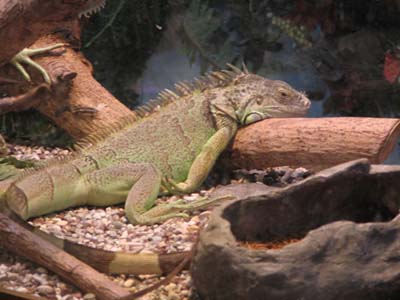 On a side note there was a hickup with my e-mail, best place to reach me now is
All for now, fireworks tonight, Chinese independence day don't ya know!
GrantM.
Sept 5, 2005
My last night in Calgary, gawd do I ever have a lot of stuff to move. Excuse the lack of updates, life is getting interesting (in a good way :) more on that later.
Besides some experiments with accelerometers, microwave RF units and low voltage FET H-bridges there hasn't been a whole lot robot related going on recently.
Of interest I did attend the 2005 Comic Con in San Diego, what a great event. Got to meet lots of "People behind the work". I wish I had brought some books to get signed by the authors! Narnia looks fantastic, watch for it Dec 9.
If all goes well my next update will be from outside the country.
TTFN,
GrantM.
Sept 1, 2005
Happy 100th Alberta!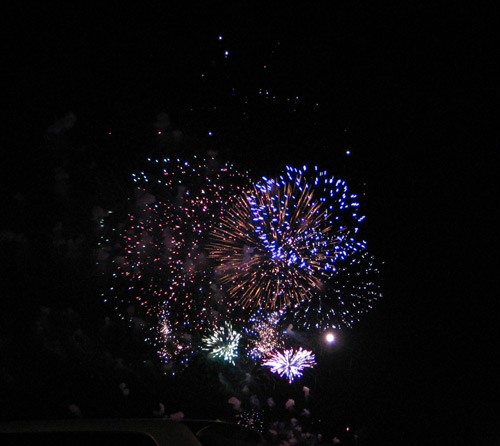 June 8, 2005
The Western Canadian Robot Games went well, what a tightly run event! it was all done an hour before schedule. Minisumo competition was fun, I entered both Ender and Solo they ended up getting 1st and 2nd (Too bad I didn't finish Razor in time...). In the end they only managed to beat eachother.
There was one match where it was everyone vs. Solo... Solo won. Although it eventually lost the re-match.
I also ran Truffle Pig, the linefollower built by Nicholas Barker and it ended up winning first place in linefollower.
Gallery page is up with pictures from WCRG although this year I wasn't nearly as much of a shutter bug as previous years. Videos will be up soon...
In other news I fixed a description on the photovores page as it lead to a bit of confusion in the latest MAKE magazine.
And I finally got a new Lappy! Yah. The Grant is happy :)
Apr 21, 2005
Seems someone in Romania (probably spoofed though) got ftp access to solarbotics.net through my account and set up a phishing site, it's gone now. Just a word to the wise though- your bank will *not* mysteriously ask you to fill a web form with your personal information and credit card numbers, especially a site hosted by solarbotics.net!
That aside I finally had some time to work on the site a bit and got the movies from RoboGames up.
On top of that I finished the pseudo blog of my trip.
And as an added bonus I finally got pictures of my latest minisumo- Solo.
Funny weather here, snow in the morning then taking Glue Dawg for a run in a T-shirt later in the day.
Apr 5, 2005
Back from San Francisco, well I was back a week ago but I had to design up a hydrostatic valve controller and solder together some boards. I want to say more about the whole Robolym.. err I mean RoboGames than I can fit here so I will dedicate a page to it. I ended up filling both my 1G CF card and my spare 256M It's either time to replace my stolen laptop or get a bigger CF card, there were lots of movies I would have like to have shot if I had the space.
Pics are currently up on my gallery page, movies to come!
Jan 12, 2005
Sixteen addition to the movie section mostly from Robonexus and a few more pics on the photo's page. Not much to report over the holidays, finished Angels and Demons and the Da Vinci Code I highly recommend reading both. I also picked up a new digital camera, ironically it shoots less mega pixels than the one I bought two years ago but has a vastly superior video mode.
Nov 25, 2004
The past month or so has been kinda crazy. First I went to Seattle to compete minisumo and run a Herbie workshop then off to Toronto to do a walker workshop then to Santa Clara to attend for the first Robonexus then back to Toronto for the ECRG competing in minisumo. I have pictures of all of these events in my gallery. I ended up taking first place in both advanced minisumo competitions, heck my mini beat the top two full size sumo's at ECRG!
I would have to say Robonexus was a highlight, I got to meet Rod Brooks as well as Dean Kamen as well as attend their lectures. I also chatted a bit with some of the designers of the HRP-2 humanoid, probably the most advanced humanoid in the world to date. Lease yours now for $500,000. I also met Randy Sargent for a second time (creator of the ever popular "Herbie" circuit). I must say the transportation around the bay area is fantastic! for about $10 I went from the airport to Fisherman's wharf (Lotsa Sea Lions!) back through town on the trolley to the BART and caught the CALtrain to Santa Clara where I took a bus to the Convention center. Sure beats the 50 miles or so that I walked in the two days before Robolympics.
Arrr not much time for bot building, at least the winter season looks rather open. I did find out that my initial rendition of Rhino will end up being waaay too heavy so I need ta mill a different motor mount and cast smaller wheels, Rhino 2.0 coming up!
I got myself HL2 for my B-day, Damn those headcrabs where's mye boom-stick?
Oct 14, 2004
Waaay overdue for an update! Lesee since the last update I did run the hard drive stepper from a microcontroller, got it up to 3000 RPM with some crude bit banging. I competed in the Seattle Robothon, alas I didn't finish my new minisumo in time so I competed with my old standby "Ender's Wraith" and managed to win first place! My toughest competitor was Slik built by Daryl Sandberg.
My next minisumo "Rhino" is still in the works but go take a look at what I got so far. I'm designing it to beat Ender's Wraith!
I'm inspired to build a snakebot after catching a few garters in the field where I take glue for runs.
Still need to upload the Robothon pics but it's getting late and this is the last sleep I get before the workshop in Toronto where we will be building 15 of the new prototype walkers.
All for now.
Aug 27, 2004
As per a request I posted the hard drive stepper motor controller on the circuits page.
July 21, 2004
Working on a... interesting robot, should be fairly simple and small and could lead to a whole new breed, time will tell.
On a side note I have been attempting to control a hard drive spindle motor. After a bit of experimenting I found them to be three coils all connected to a common. The common goes to + and the coils are sequentially driven to run the motor. I later found out this is called a variable reluctance type motor.
Anyway with three coils to drive it seemed to be a perfect fit for a tricore. I had mild success using a L293D but couldn't seem to get past about 300RPM (they should be able go at about 7200RPM) Turns out the L293D was overheating. I replaced the L293D with some 30A FETS now I was able to get to 2378 RPM. I have run into the variable frequency range of the tricore. Meaning I can't adjust the frequency low enough to start the motor and have a decently high speed range. Im fairly sure these are meant to be chopper driven hence the super high current of just bit banging them with the tricore.
Done properly I would probably use a microcontroller to ramp the frequency while adjusting duty cycle output to keep current consumption at a minimum. Can't really think of a use for these, they are designed for maximum speed at the minimum torque necessary to get the hard drive platters spinning and not much more.
June 21, 2004
Just finished uploading a whole bunch of movies to the movie page. Longest day of the year! Hmmm GTG there is one Helluva electrical storm going on right now.
May 29, 2004
Still working on the minisumo page for Ender's Wraith and S.S Raptor.
May 3, 2004
Upload of a few videos.
Apr 21, 2004
Finished building another Turmet with the new GM11 motors from Solarbotics also there are some construction details.
Finally got the Robolympics movies up!
Also updated the non-robot related pic page.
And because I figure sleep is just a mind set not a physical state I also put up some pictures of the minisumo I constructed details on the misc page, wheee.
Mar 22, 2004
Just got back from attending the Robolymipcs in San Francisco!
I built a robot to compete in the minisumo competition, started it Saturday basically finished it Sunday but needed to improve the battery packs, a two minuet run time just didn't cut it, thank you Dave for the Lithium polymer cells. So it was finished Monday - Just over two days of build time.
I placed second but actually never got to face off against the first place minisumo due to the single knock out competition. As a grudge match I did go up against the top minisumo and won two in a row, ah well. The Singapore team had a beautifully designed sumo, very fast had great opponent detectors and a microcontroller that could probably run a space station.
The Japanese 3kg sumo's were very good, fast enough that the 15fps videos my camera shoots does not do them justice! The magnets on the bottom were so strong that getting them off could bend the metal plate used as a ring.
The "combat robots" were loud, impressive, destructive and loud, they made good money on ear plugs. One actually bent one of the corners of the combat floor, that stuff is 1/4 in tool steel! they couldn't hammer it back down! they ended the competition a couple hours early to fix the floor with a blow torch and a welder.
The Japanese robots competing in "Robot one" were amazing, the videos are a must see.
There is a bit of a gap in the pictures, I actually filled my 1 gig CF card and needed to dump some pictures to Dave's laptop, they are currently in New Mexico somewhere.
Anyway check the gallery for lots of pictures, direct link here.
You can e-mail me if you see any errors or have any extra info you would like to contribute.
I will be doing a page with all the movies soon.
Mar 2, 2004
Did done up a HowTo on repairing broken solar cell pads. Also uploaded a bunch of video clips.
Feb 12, 2004
The news is its been awhile since my last update! my how the time flies! should have bought that flux capacitor, maybe the next time im in New Mexico...
Shortly after I got back from the Seattle Robothon I constructed a two wheel balancer. It's very simple and works like crap, but it does work. I plan on building another that actually uses some signal conditioning with op amps to get PID motor control soon.
Anyway check the gallery page on the balancer.
Dec 16, 2003
There just finished the schematics. So anyway the picture down there is of my Christmas lights but since I don't have a tree I had to settle with my snake plant (great natural air filter). The lights are a string of 21 LED's all run in series, course to do that I needed about a 40V potential from a 5V source.
As an experiment I'm doing my own pseudo BEP App in gallery go here to see it.
Dec 15, 2003
Just a quick shot of something that I have been working on: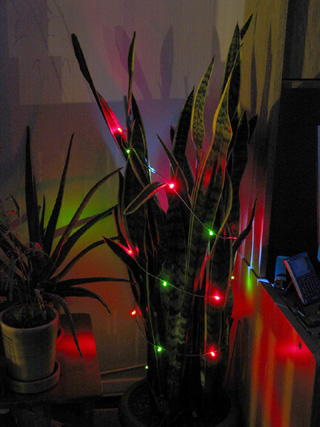 Details tomorrow...
Dec 2, 2003
Added galley pics of ECRG and a small Sumovore mod.
Nov 9, 2003
Gallery is up and running! Check it out at: http://grant.solarbotics.net/gallery/
Nov 3, 2003
As a request I have drafted up the fanbot 2 schematic for details check the Circuits page.
Oct 29, 2003
This update dedicated to Chris, He who asked me for an update so here it is:
My it's been awhile how the time does fly. I do however offer a mild excuse, the laptop that I largely built this website on was stolen in August the next month I got into a car accident after that I was involved in the NAIT robotic games and shortly after that there was the Seattle robothon and next up is the ECRG in Toronto. Busy... Ya. Alas my 512 card was in my laptop when it was stolen so I picked up a 1G card and filled it up at Robothon, pictures and movies to come once I get gallery up and running.
Contrary to my last posting it is now in fact quite chilly thermometer reading -3.7 C that comes with a biggie size of snow and ice.
July 29, 2003
Gawd is it ever hot here *glances at thermometer reading 33 C* So as per quota I built another Fanbot . Also just for posterity sake I added the first fanbot as well. The Fanbot 3 is the first *Microcontroller* project added thus far. Hope to get to wiring up a "getting started with microcontrollers page", Interesting stuff.
June 22, 2003

There are now plenty of movies on the movies page. Remember that you will need to get the divX codec at www.divx.com to play the movies. The majority of the movies are from WCRG, mostly minisumo matches. I shot about half an hour on my camera (filled my 512 card!) but these were the highlights.

June 18, 2003
Just finished building a fairly small pummer also added a couple of pictures to the non-beam gallery see wasp and lightening. Finished a couple more commision bots see the Butterflies. Hope to encode a bunch of videos this weekend.
June 10, 2003
On a request I finally got around to posting that 555 photovore circuit, yeesh its been in my notebook for over two years.
June 4, 2003
Just got back from St. Louis were I experienced my first traffic accident, not something I would recommend. Anyways, Just updates to the WCRG and LANL galleries also added a second edgebot circuit.
May 20, 2003
WCRG is finished, was good. Pictures of the event can be found here. Also a edgebot circuit is up see that one here. Busy always busy but it seems the rush is over, more time to work now.
Still tanned from my Sante Fe walk, Sansevieria plant is growing fast but I know not who this Seymore person is or why I should feed him to my plant. Introductions to come.
Please stand by.
May 8, 2003
Back from New Mexico right into WCRG preparations, here are a few LANL workshop and miscellaneous pics.
April 26, 2003
Hmmm I should be in New Mexico now but I am here... Oh yeah it snowed.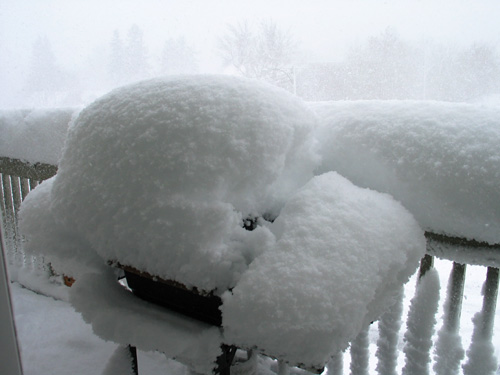 Wheee!
Oh well will catch the next early morning flight, at least I got to build a 12' 10'' snow tower for fun. The bottom was about 4' diameter so that's 33.5 cubic feet of snow for the bottom alone and there are 8 stages each about half the size of the last so that 66.7 cubic feet of snow! course that's making a few assumptions of perfection. Now why did I go and figure that out? Damn school math brainwashing!
April 24, 2003
Just about ready to fly out to New Mexico, finished an edgebot last night and need to do another here soon. Am defiantly planning on putting up a LANL workshop photo page, also getting in a Hoya R72 filter for some digital IR photo lovin! Anyway look for photos of the LANL workshop and the WCRG in the near future!
April 15, 2003
Added a revised version of the BBPV, just a small change adding a feedback capacitor to snub unwanted oscillations. Busy getting ready for the LANL workshop as well as the WCRG plus a few commission bots.
Mar 29, 2003
Description tweaking and organizing.
Mar 10, 2003
Minor updates.
Mar 5, 2003
Been up at 3 in the morning programming in front of a glowing screen in a dark room for the last few days. Working on a digital pressure transducer project, it basically came down to using a PIC or spending lotsa $$$ on parts to do it with discreet. So after many hours of programming I have something working, would have been much easier to use a LCD display but LED's are better suited to this environment.
Feb 22, 2003
Aggh been out of commission for a bit, had to get a little piece of wisdom pulled out, tongue felt so chubby. Oh well enough talk of unpleasant non-robot related experience, added a couple of artsy pics. More experiments with long exposure times.
Feb 7, 2003
Updated with a couple more circuits. Just a couple basic dark activate circuits with transistors. Mmmmm transistors, there delicious!
Feb 5, 2003
Added a few more bot pics as well as another circuit. Bleh it's late I had to drop off my final project at school so they could demo it at the open house. The thing weighs a bit over 36lb and is awkward to carry around, why didn't I build something smaller?.
Feb 3, 2003
Some more background updates and tweaks to descriptions.
Feb 2, 2003
Finally took some pictures of the voltage converter thing I talked about back in September See it here. Also added a pendulum. The movie for the Vibe head is DivX encoded, Its not out of the box playable from windows so a codec needs to be downloaded find it at http://www.divX.com. The video quality is indistinguishable from the source file and is only 1/5 the size.
Feb 1, 2003
Major updates this weekend, adding a circuits page! Also finished a vibe head see a picture here and see a movie of it in action here (size 1.2MB). Also got around to putting up a beetle robot that I built, shortly after being inspired by meeting Jérôme Demers. Work continues on a servo core walker, with a UHMW body I built a year ago. Nothing too fancy just the basic walker with reverse.
Jan 28, 2003
Hmmm need to change the galleries around a bit, it would make more sense if they were in chronological order with the newest being at the top. That and the site is still much to bland "white", But im no web developer; Just learning as I go. Thinking of starting construction on a simple vibe head build with a new head circuit and I think it's high time I updated my night car flasher.
Just added a picture of last summers diverting hobby... Chain Maille.
Jan 23, 2003
Finished a small pummer in a container. See Picture here. More details in the Pummer section.
Jan 20, 2003
There Just added a few more pics of older bots. Namely the First Turmet, Head and Herbie. Check the gallery for more details.
Jan 19, 2003
Just finished a simple little light follower see picture here. For details check under the photovore category. Will see about adding a few more of my older bots to the gallery tomorrow.
Jan 10, 2003
Finished the art project take a look at it here. For details check under the Artsy category.
Jan 5, 2003
Started work on a commissioned art project for a fundraiser auction.
Jan 1, 2003
Happy New Year! Hope this year provides more time to build robots and update this page. I have a commissioned project to do for an auction later this month.
Dec 14, 2002
Busy building Christmas gifts, will take a few pics when done. Counter keeps resetting each time I change this page due to using the FTP to overwrite the page files. Have to get the server FrontPage extensions to work properly with my home box, whoo Microsoft... I go eat stuff now!
Dec 7, 2002
Added a few pictures taken with my new digital camera. The Macro mode isn't too shabby.
Just finished a small voltage converter unit that sits in my car and runs my Sony MP3 player and the little FM transmitter. May be a bit before the next update as this is just setting the page placeholders.